LabelMedien upgrades with a Rhyguan TOP330PLUS2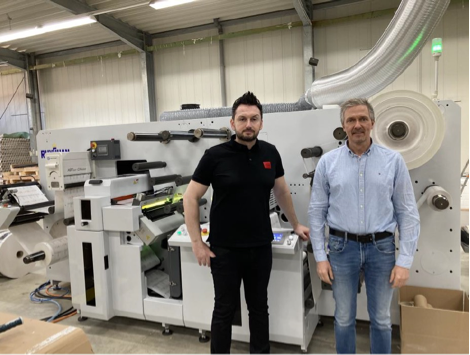 Damien Glab Managing Director LabelMedien and Peer Boysen managing director B&T Tec GmbH, in front of the Rhyguan TOP330PLUS2
LabelMedien in Randerath Germany, Managing Director Damian Glab, has added another digital printing finishing machine to their machine park. The strong growth of the business, the move to a new production location the desired increase in output led to investment considerations.
B&T Tec GmbH, Managing Director Peer Boysen, was awarded the contract with a TOP330PLUS2 from the manufacturer Rhyguan. The machine has full and semi-rotary flexographic printing and die-cutting unit as well as various additional options. The starting shot for the cooperation with B&T Tec came for Mr. Damian Glab, among other things through the recommendation of a friendly printer.
The know-how of B&T Tec, as well as the price-performance ratio of service and the high-quality machine from Rhyguan, were convincing in the end. "With our extensive range of products and services in combination with the high-quality machines from Rhyguan, B&T Tec GmbH in Germany offers the one-stop-shop solution with al very competitive overall package."
LabelMedien rüsten auf mit einer Rhyguan TOP330PLUS2
Die LabelMedien in Randerath, Geschäftsführer Damian Glab haben eine weitere Digitaldruck Veredelungsmaschine zu ihrem Maschinenpark hinzugefügt. Starkes Wachstum, der Umzug in ein neues Gebäude und eine erwünschte Output Steigerung haben zu den Investitionsüberlegungen geführt. Den Zuschlag hat die B&T Tec GmbH, Geschäftsfüher Peer Boysen mit einer TOP330PLUS2 des Herstellers Rhyguan bekommen. Die Maschine verfügt über ein voll- und semirotatives Flexodruck- und Stanzwerk sowie diverser Zusatzoptionen.
Den Startschuss für die Zusammenarbeit mit der B&T Tec kam für den Herrn Damian Glab u.a. durch die Empfehlung einer befreundeten Druckerei. Das Know-how von B&T Tec, sowie das Preisleistungsverhältnis aus Service und hochwertiger Maschine von Rhyguan überzeugten final.
"Mit unserem weitreichenden Produkt- und Dienstleistungsangebot in Kombination mit den qualitativ hochwertigen Maschinen von Rhyguan bietet die B&T Tec GmbH ein sehr wettbewerbsfähiges Gesamtpaket aus einer Hand."