Greece based ETPA selected a Rhyguan TOP330PLUS2 and Novacell Hellas for service and installation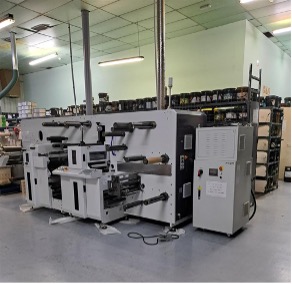 ETPA Packaging A.E.E.E. chose Novacell Hellas and the Rhyguan TOP330PLUS2  for the quality upgrade of its production.
The project concerns the installation of a digital label finishing machine with a unique combination of quality for label production. This is a project that brought higher quality standards to the digital processing and conversion of labels in the ETPA Packaging production chain.
This is the installation of the machine: Rhyguan TOP 330PLUS2. This particular solution will offer the following: • The Rhyguan TOP 330PLUS2 is a modern and compact solution, servo-driven and digitally controlled for label conversion. Designed for the finishing of digitally printed labels with a semi-rotary die-cutting unit. It also includes a Flexo unit with both semi-rotary and full-rotary printing capabilities, with an installed Corona unit, a cooling drum to expand the range of media that can be used in the machine to include heat-reactive media. It is also equipped with a large Z204 magnetic roller and print roller to allow a frame length that fits all well-known digital printers on the market, such as Xeikon.
It offers the possibility of unwinding and cutting (slitting) both clockwise and counter-clockwise, while it also has an integrated matrix rewind unit and double rewind. In addition to the installation of the machines, Novacel Hellas highly trained and certified staff, also undertook the comprehensive technical support monitoring of the specific solutions.
For the project Mr. Ioannis Sfatkidis (Production Manager) on behalf of ETPA Packaging     stated the following regarding the collaboration: "We feel that our needs will be perfectly met by Rhyguan's TOP330PLUS2 (link to top330plus2) machine. The already existing collaboration with Novacel Hellas and the communication with its executives was a very good reason to trust their proposal for a digital label processing machine."
Mr. Dimitrios Spyropoulos (Commercial Director) on behalf of Novacel Hellas, stated the following regarding the collaboration: "We are sure that Etpa Packaging made an excellent investment by showing confidence in Novacel Hellas and Rhuguan. We will be next to the company with our fully trained technical department but also with the second-level support of Rhyguan Europe.
Who is ETPA Packaging?  ETPA Packaging, from 1982 until today, has been mainly involved in the production of printed packaging materials with guaranteed quality, as well as supporting customers with new ideas and original proposals that will add value to the final product and ultimately lead to increased sales. The company, through its many years of successful course, has won the trust of the market and has included in its clientele some of the largest Greek and multinational companies.
Who is Novacel Hellas? Novacell Hellas is part of a group of companies with over 20 years of activity experience in a wide range of business activities (in Greece and abroad), mainly in the fields of printing, pre-printing, and packaging but also wider industrial solutions, and specializes also in technical support of machines.
The company was founded in 1998, and became a Rhyguan channel partner in 2021.